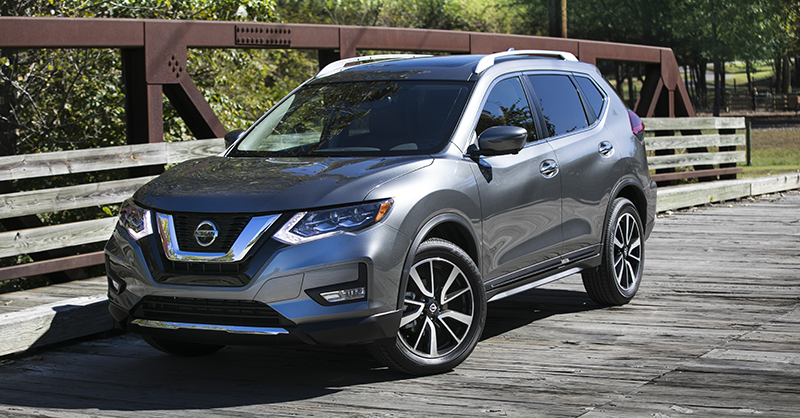 The 2018 Nissan Rogue builds on the success of being the number-one selling Nissan in 2017 with the addition of advanced driver assist features, a new Midnight Edition and standard Apple CarPlay and Android Auto.
Under the Hood
Nissan engineers equipped the 2018 Rogue with a 2.5-liter four-cylinder engine that pumps out 170 horsepower and 175 pound-feet of torque.
The engine is teamed with an Xtronic automatic transmission with Sport Mode and Eco switches standard on all models.
An available all-wheel-drive system provides superior handling on corners as well as added safety by giving better grip on road surfaces, especially when slick.
Comfort and Convenience
One thing drivers love about the Nissan Rogue is its flexibility. The EZ Flex Seating System and Divide-N-Hide Cargo System give myriad options for passenger seating and cargo carrying configurations to ensure the Rogue is practical and efficient when it comes to fitting in the maximum cargo while retaining the maximum comfort for passengers. Every seat except the driver's folds down.
The driver's seat is six-way adjustable, and the front passenger seat is four-way adjustable.
Drivers can sync their smartphones to the onboard infotainment system for hands-free voice calls, audio streaming and mobile app integration. Basic models feature a 5-inch screen and four-speaker audio system. Well-equipped models come with a 7-inch touchscreen, Apple CarPlay and Android Auto.
Safety
Highlighting the safety features in the 2018 Nissan Rogue is the ProPILOT Assist system. It modulates driver inputs on the gas pedal and steering wheel to bring the vehicle to speed safely and use the adaptive cruise control to maintain safe following distance. The system is keyed to U.S. roads and recognizes lane markers with the front camera to provide info to the steering assist feature to keep the vehicle in the lane, though the driver's input always overrides the computerized system.
In the event of a collision, a full set of airbags protects occupants, and three-point seat belts are standard at all seating locations. The LATCH system ensures that child seats are easily and safely secured in the vehicle.
Copyright © 2018 by Sensible Driver. All rights reserved.