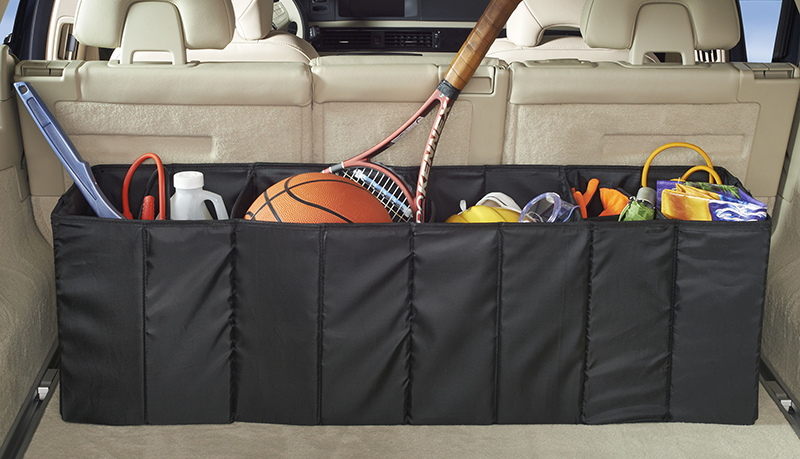 There's the right tool for every job, and vehicle organization is no different.
Plenty of products exist for storing electronics, crucial documents, cargo and the children's toys. The key is choosing the right product for your specific needs.
"The average driver spends more non-sleeping time in his or her car than in any room in the house," said David McClees, president of the Talus Corp, a Maine-based manufacturer of car organizers. "That's translated into people wanting to use their cabin space more efficiently."
McClees breaks down vehicle organization into the following categories and offers suggestions to educate consumers on their options:
Driver organization: These products are the alternative to just throwing everything on the passenger seat. Some organizers drape over the passenger seat, others are pockets with multiple compartments. McClees stresses safety and suggests shoppers avoid driver organizers requiring the motorist to use both hands to retrieve items.
Smartphone storage: Part of the family of driver organizers, products include stands and chargers. This helps keep drivers connected as they use turn-by-turn directions or the speakerphone.
Cargo: Cargo storage is for the trunk, the bed of a pickup, hatchback or the back of an SUV. Think stuff you need but don't use everyday: Emergency tools, first-aid kit, etc.
Backseat: These organizers typically store kids items like books, toys and the like, though they are also useful to carpoolers who don't want to hold everything on their lap during the commute. Consider versions that drape behind the front seats and include pockets for electronic devices.
Garbage: Collect gum wrappers, receipts and other miscellaneous trash from disappearing into that void beneath and between the seats. Leakproof products are especially useful at preventing damage to the carpet.  
Safety: Aesthetics aside, it's dangerous to have a bunch of junk sliding around on seats and rolling around on the carpet. Safety is a major factor buyers should consider. Items could become airborne during a collision or wind up beneath one of the pedals while you're driving.