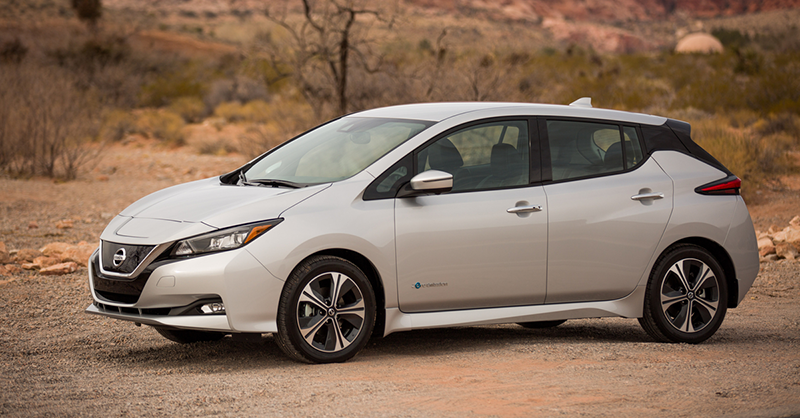 The all-new 2018 Nissan Leaf provides even more range on one charge than previous models as well as advanced driver assistance technology to deliver a comfortable and stylish car that keeps drivers away from the gas stations.
Under the Hood
Nissan engineers developed a new e-powertrain using a lithium ion battery pack with higher energy density for the 2018 Leaf that delivers 147 horsepower and 236 pound-feet of torque. The horsepower is a 37 percent increase over previous models, and the torque is a 26 percent improvement that gives quicker acceleration and a faster throttle response.
Comfort and Convenience
The 2018 Nissan Leaf offers something you just don't get in traditional vehicles – the ability to power your home. The Leaf-to-Home system lets the vehicle store surplus solar power during the day and then use it to help provide power to the home in the evening. The benefit is in the ability to then charge the vehicle in the middle of the night when energy prices are at their lowest for a new twist on how electric vehicles save money.
In-vehicle infotainment is handled through the NissanConnect system, which not only allows for hands-free voice calls via Bluetooth technology, but also audio streaming and mobile app integration. Apple CarPlay and Android Auto mate with smartphones to make using smartphones easier while in the vehicle.
Another way the Leaf provides comfort is in the noise-reduction features that give the Leaf a quieter ride, even at highway speeds.
Safety
Nissan designers put safety as a top priority when building the 2018 Leaf. New intelligent driving tech includes ProPILOT Assist and e-Pedal systems. Once activated, the ProPILOT Assist feature automatically maintains distance from the vehicle in front and provides steering assistance to help keep the vehicle in the lane. It also keeps pressure on the brakes when, after coming to a complete stop, the driver releases the brake pedal. It only releases the brakes when the accelerator is pressed, preventing forward creep.
The e-Pedal system begins to slow the vehicle when the driver lets off the brake, and will even stop the vehicle completely.
Occupants are protected in the event of a collision by a full set of airbags as well as three-point seat belts at all seating locations.
Other safety features include intelligent lane intervention, lane departure warning, automatic emergency braking with pedestrian detection, blind spot warning and rear cross traffic alert.
Copyright © 2018 by Sensible Driver. All rights reserved.